ACTIVITIES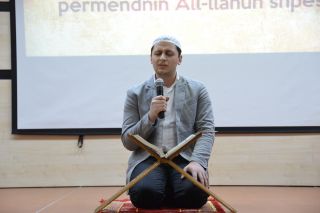 Prophet Muhammad Mercy for the Worlds - 19.1.2015
"Prophet Muhammad p.b.u.h Mercy for the worlds" was the name of the program organized last afternoon from the Islamic Sciences students of "Hëna e Plotë" Bedër University.
At this memorial program was present the chairman of Albania`s Muslim Community Mr. Skender Bruçaj, Rector of "Hëna e Plotë" Bedër`s University Mr. Ferdinand Gjana, representatives from the Albanian Muslim Community, deans, professors, students and family.
The wonderful words of the Holy Quran, recited by the Islamic Sciences student Hysni Merja, were the opening of this program. A view of Prophet Muhammad`s moral values and his perfect model was introduced from the Islamic Sciences professor, Veton Tulla. "Our love towards the Prophet can be accomplished by obeying and following his advices. In addition to this, in order to be close to him as much as possible, sending him greetings is the best way"- Mr. Tulla said.
The Albanian Muslim Community chairman in his greeting speech congratulated the students for the program and the atmosphere they transmitted. "I am very grateful that with these programs you present messages from Prophet p.b.u.h the man who came as mercy for all mankind. The world today needs more than ever to know about the Prophet of mercy, love and peace", said among the others the chairman.
The quran recitation, nasheeds, and the special poetic and theatrical parts presented by the students, exalted all the audience. In memory of the Sun of mercy were transmitted messages of love and peace, witnessing one more time that the Prophet p.b.u.h was the symbol of love.
We fell in love with him, without seeing him…